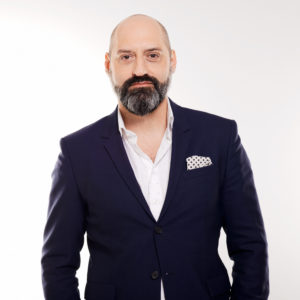 Why fragrances? Why not food, sport or travel?
"Fragrances have been with me my whole life. Grandma's apple pie, Mama's Sunday roast, the perfume of her first girlfriend, or her first boyfriend.
For everyone fragrances are a daily companion and yet we take this was very different. For this reason, this blog is not a lesson about fragrances and their wild composition, but a subjective journey. A journey adorned with pictures, anecdotes, metaphors and encounters.
Whenever I have noticed an interesting scent, on the street, in the train, when entering a shop, I have pictures before my eyes. Sometimes it's colours that dance with each other, revolve around each other, inflate and collapse again, sometimes it's clear images of waters, forests, warriors, asphalt, rain. Sometimes tender like a dream, sometimes harsh like a Wagner symphony, but always beautiful and worth dealing with.
I hope that many a reader feels taken along, inspired".
Christian Brennenstuhl
++++
Warum Düfte? Warum nicht Food, Sport oder Reisen?
"Düfte begleiten mich schon mein ganzes Leben. Omas Apfelkuchen, Mamas Sonntagsbraten, das Parfüm der ersten Freundin, oder des ersten Freundes.
Für jeden sind Düfte ein täglicher Begleiter und doch nehmen wir diese sehr unterschiedlich war. Aus diesem Grund ist dieser Blog auch keine Lehrstunde über Düfte und deren wilder Zusammensetzung, sondern eine subjektive Reise. Eine Reise, geschmückt mit Bilden, Anekdoten, Metaphern und Begegnungen.
Wann immer ich einen interessanten Duft wahrgenommen habe, auf der Straße, in der Bahn, beim Betreten eines Ladens, habe ich Bilder vor Augen. Mal sind es Farben, die miteinander tanzen, sich umkreisen, sich aufblähen und wieder in sich zusammenfallen, mal sind es klare Bilder von Gewässern, Wäldern, Kriegern, Asphalt, Regen. Manchmal zart wie ein Traum, manchmal harsch wie eine Wagner Symphonie, aber immer schön und Wert, sich damit auseinanderzusetzen.
Ich hoffe, dass sich manch ein Leser mitgenommen fühlt, inspiriert."
Christian Brennenstuhl